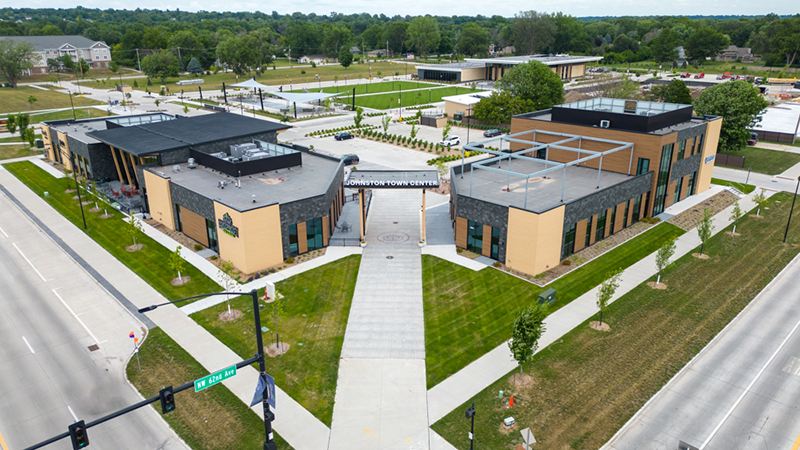 Johnston
Discover the countless benefits of living in Johnston, Iowa, where convenience, quality education, and a thriving local scene await you. Nestled amidst picturesque landscapes, Johnston offers the perfect blend of small-town charm and modern amenities. Let me guide you through the highlights that make Johnston an exceptional place to call home.
Location and Easy Access:
Situated in the heart of Iowa, Johnston enjoys excellent connectivity with major highways, ensuring effortless travel and commuting. Whether you're heading to downtown Des Moines for work or exploring the beauty of the surrounding countryside, the convenience of nearby highways ensures you can reach your destination with ease.
Top-Notch Schools:
For families with children, Johnston is renowned for its exceptional school district. Dedicated to providing quality education, Johnston schools consistently rank among the best in the state. Your children will thrive in an environment that fosters academic excellence, with experienced educators and a strong sense of community.
Recreational Delights:
Embrace an active lifestyle surrounded by the natural beauty of Johnston. Take advantage of the well-maintained parks and trails, where you can enjoy leisurely walks, refreshing runs, or peaceful picnics with loved ones. The breathtaking scenery provides the perfect backdrop for outdoor activities and memorable family outings.
Recommended Amenities:
In Johnston, you'll find a plethora of amenities to cater to your everyday needs. From convenient shopping centers to well-stocked grocery stores, everything you require is within reach. Indulge in retail therapy at the local boutiques, or explore the nearby malls for an extensive shopping experience. You'll discover that Johnston has everything to make your daily life convenient and enjoyable.
Exciting Attractions and Hidden Gems:
Uncover the hidden treasures of Johnston as you dive into its captivating attractions. Explore the fascinating exhibits at the Johnston Historical Museum, offering a glimpse into the city's rich heritage. For outdoor enthusiasts, the stunning Beaver Creek Golf Course and Terra Park provide opportunities for relaxation and recreation. Johnston Town Center is a new attraction to the city located on Merle Hay Road that brings in vibrant & modern flare entertainment. The central green space, "The Yard," features regular event programming, including concerts, a splash pad and a seasonal ice skating rink.
Local Culinary Delights:
Savor the culinary delights that Johnston has to offer. Experience a culinary journey through the local restaurants, where talented chefs create mouthwatering dishes using fresh, locally sourced ingredients. Whether you're craving international cuisine, classic American fare, or cozy cafes, Johnston's diverse culinary scene has something to satisfy every palate.
Your Trusted Area Realtor:
With an in-depth understanding of the area's real estate market and a commitment to personalized service, I will guide you through every step of the process, ensuring a seamless and rewarding experience. Start your journey to finding your local ideal home in Johnston today!

Sorry we are experiencing system issues. Please try again.